Surfline Forecast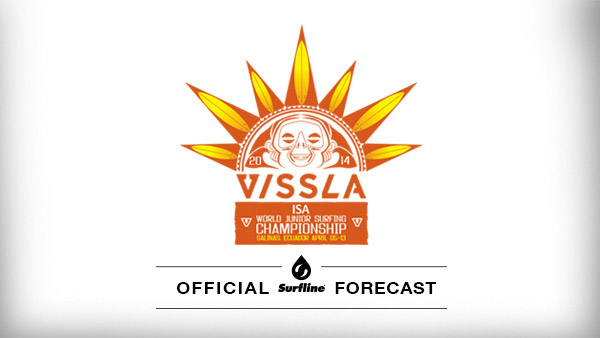 Updated: April 11th
BRIEF OVERVIEW: A modest mix of SW, S and NW swells will continue Saturday morning. A solid, new SSW groundswell will fill in throughout the afternoon/evening on Saturday, strongest on Sunday. Early mornings each day will offer the lightest/best wind.
SATURDAY 12th:Old SW swell holds, while a new SSW swell gradually builds in. Small S windswell and NW swell mixing in. BIGGEST LATE.
SWELL/SURF: Surf will be mainly in the 3-4' zone in the morning(sets up to chest-shoulder high). However, look for more powerful 4-6′+ sets to rise up over the later afternoon/evening off the point with the building, long period SSW swell and dropping tide.
WIND: Calm to very light/variable onshore in the early morning, becoming WSW 8-12kts through the afternoon.
SUNDAY 13th: Solid SSW swell builds in further and tops out in the afternoon. Small S windswell and NW swell mixing in.
SWELL/SURF: Surf will be in the 6-8′+ zone on the face, with the largest waves up to 10'+ faces on the most favorable tides (morning and evening lows).
WIND: Light/variable to light onshore in the early morning, becoming WSW 8-12kts through the afternoon.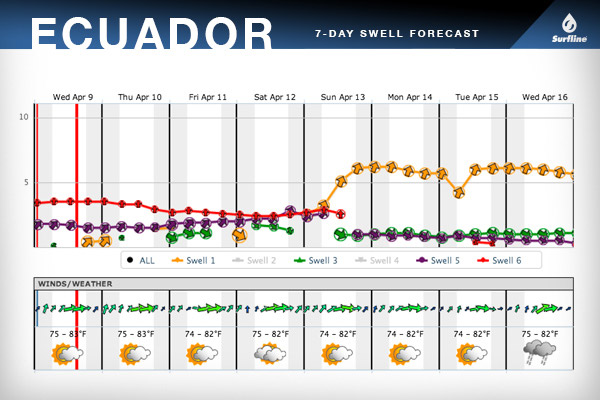 Surf Outlook
Modest SW swell (225-210°) will continue Fri/Sat with sets mainly around the waist-chest high zone, occasional waves/peaks hitting shoulder high. This is coming from a distant western South Pacific storm, so we expect these sets to be rather lully and inconsistent.
Then a solid SSW swell (210-190°) will build up the coast over the weekend, which will produce the largest surf of the event. This is from a storm that recently developed over the eastern South Pacific, boasting satellite confirmed winds that reached up to 40-50kts and seas of 30-35 feet aimed at Ecuador.
The SSW swell will build in over Saturday (mainly over the PM hours) and through Sunday morning, topping out over Sunday afternoon. We are looking for head high+ sets (5'+ faces) to pick up before dark on Saturday off this new energy. On Sunday, the surf will be solidly head high+ to a few feet overhead, with larger sets pushing up to double overhead or so (strongest over the afternoon).
From the North Pacific, we have a modest NW swell that will move into the region on Friday and the weekend. Fun size, lully NW sets will mix in underneath the more dominant SW-SSW swells that will be running during that time.
For conditions, we are expecting a very similar wind/weather pattern each day through the rest of the week and into the weekend. Wind to be mainly light and variable to light onshore in the early mornings, with a moderate onshore SW veering WSW seabreeze rising up into each afternoon. Skies will generally be partly cloudy.
Online version of this forecast: http://www.surfline.com/surf-science/vissla-isa-world-juniors—official-forecast—forecaster-blog_108259/