The World's Biggest Junior Surfing Competition Kicks Off With The Press Conference And Opening Ceremony Tomorrow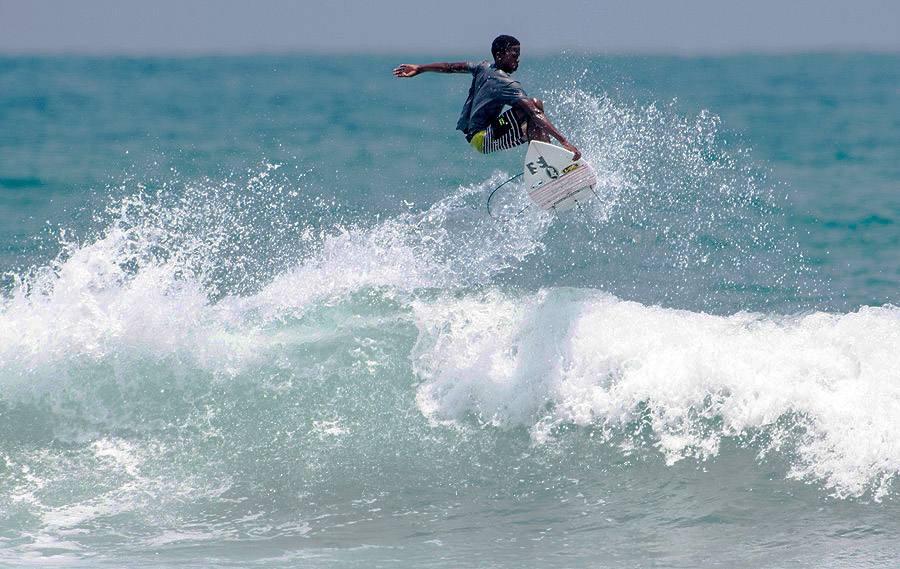 A total of 32 countries and 400 athletes and team officials are confirmed in the 2014 VISSLA ISA World Junior Surfing Championship (WJSC). The world's largest and most important Junior competition will take place in La FAE, one of the best and most consistent surf breaks in Ecuador.
The official press conference will take place on Saturday morning at 11am at Hotel Barcelo in Salinas. Following the press conference, the competition will officially begin with the Opening Ceremony featuring the ISA's traditional Parade of Nations and Sands of the World Ceremony. All 32 National Delegations will gather and parade down the ocean front main street in Salinas where organizers are anticipating thousands of local spectators.
During Opening Ceremony, each participating nation comes to the stage waving their national flag while pouring sand from their local beach into a glass container symbolizing the peaceful gathering of nations through the love of surfing.
"Excitement is building as all the participating National Delegations have arrived in Ecuador and are practicing at the beautiful point break and beach break waves of La FAE in the colorful city of Salinas, Ecuador. Our official forecaster, Surfline, expects excellent waves for the opening day of competition," remarked ISA President Fernando Aguerre.
The ISA President continued, "I would like to extend my sincere appreciation to Ecuador's President Rafael Correa, and Ministers Vinicio Alvarado and Jose Cevallos for their commitment and support to developing surfing in Ecuador through hosting this World Championship. Also, as I like to remind all athletes, while a few competitors will go home with medals, all of them are already winners, as they are surfing as members of their National Surfing Teams."
The confirmed countries are Argentina, Australia, Austria, Barbados, Brazil, Canada, Chile, Costa Rica, Ecuador, France, Germany, Great Britain, Guatemala, Hawaii, Ireland, Italy, Japan, Mexico, New Zealand, Peru, Portugal, Puerto Rico, Russia, South Africa, Sweden, Switzerland, Tahiti, Trinidad & Tobago, Uruguay, USA, Venezuela and Wales.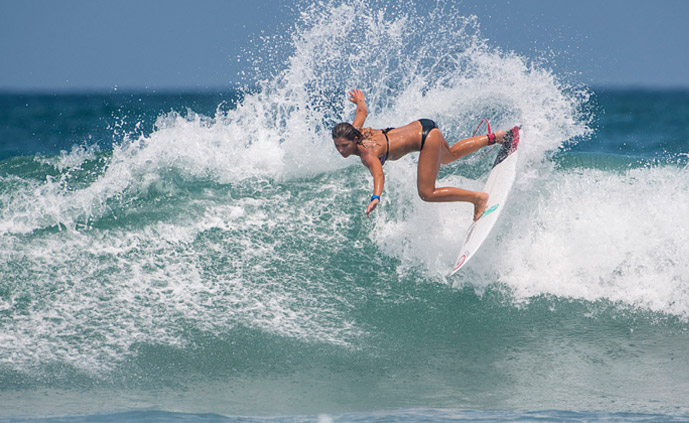 Each National Team consists of up to 4 Under-18 Boys, 2 Under-18 Girls, 4 Under-16 Boys, and 2 Under-16 Girls plus Team Officials.
Below is the full list of confirmed teams. Please note, team registration closes at the end of the day, today, and team lists are subject to change. The final list will be found on http://isawjsc.com/2014/teams/ at the close of registration.
Argentina
Under-18 Boys:
Joaquin Juarez
Felipe Suarez
Facundo Arreyes
Tyron Gonzalez
Under-18 Girls:
Lucia Cosoleto
Lucia Induraín
Under-16 Boys:
Sebastian Ventura
Ignacio Gundesen
Felipe Landa
Lorenzo Picco
Under-16 Girls:
Evelyn Gontier
Josefina Ane
Team Officials:
Ruben Muñiz
Cristian Peterson
Joaquin Gerber
Pablo Ursino
Australia
Under-18 Boys:
Cody Robinson
Fraser Dovel
Luke Hynd
Monty Tait
Under-18 Girls:
Isabella Nichols
Holly Wawn
Under-16 Boys:
Joe Van Dijk
Zac Wightman
Quinn Bruce
Shaun Manners
Under-16 Girls:
Laura Poncini
Billie Melinz
Team Officials:
Blake Johnson
Ben Falvey
Timothy Brown
Amanda Couzner
Ed Melinz
Linda Wightman
Paul Poncini
Austria
Under-16 Boys:
Team Officials:
Barbados
Under-18 Boys:
Josh Burke
Dylan Downie
Che Slate
Zander Venezla
Under-18 Girls:
Under-16 Boys:
Che Slate
Zander Venezla
Lance Blades
Under-16 Girls:
Team Officials:
Sean Downie
Janine Downie
Andrew Warden
Patricia Warden
Brazil
Under-18 Boys:
Gabriel Andre
Luan Wood
Elivelton Santos
Lucas Silveira
Under-18 Girls:
Rayssa Fernandes
Yanca Santos
Under-16 Boys:
Rafael Venuto
Dolglas Jose
Renan Fleas
Samuel Pupo
Under-16 Girls:
Larissa Santos
Carol Ribeiro
Team Officials:
Adalvo Argolo
Gabriel macedo
Canada
Under-18 Boys:
Under-16 Boys:
Team Officials:
Chris Foerster
Carlos Artavia
Chile
Under-18 Boys:
Jorge Soto
Erik Bustos
Jose Cruz
Sebastian Perez
Under-18 Girls:
Adela Recordon
Ignacia Soto
Under-16 Boys:
Nicolas Canelo
Roberto Araki
Sebastian Oliva
Cristian Ibarra
Under-16 Girls:
Laura Godoy
Javiera Veliz
Team Officials:
Costa Rica
Under-18 Boys:
Noe Mar McGonagle
Manuel Mesén
Leonardo Calvo
Martín Artavia
Under-18 Girls:
Leilani McGonagle
Paula Duarte
Under-16 Boys:
Aldo Chirinos
Malakai Martínez
Joseph Méndez
Lorenzo Córdoba
Under-16 Girls:
Leilani McGonagle
Emily Gussoni
Team Officials:
Gilbert Brown López
Sean McGonagle
Ecuador
Under-18 Boys:
Felipe Rodriguez
Aurelio Prieto B.
Esnaider Parrales
Cristhian Hernandez
Under-18 Girls:
Illiana Aguirre
Maria Gracia Game
Under-16 Boys:
Irons Burgos
Gary Gonzalez
Rafael Clemente
Andres Duran
Under-16 Girls:
Isabella Botlero
Maria Cristina Game
Team Officials:
Jorge Edgecombe
Byron Yagual
Carlos Goncalvez
France
Under-18 Boys:
Diégo Mignot
Nommé Mignot
Tim Bisso
Nelson Cloarec
Under-18 Girls:
Under-16 Boys:
Titouan Boyer
Lens Aranchibia
Mathis Corzon
Leo-Paul Etienne
Under-16 Girls:
Nina Reynal
Lisa Girardet
Team Officials:
Stéphane Corbinien
Patrick Flores
Germany
Under-18 Boys:
Leon Glatzer
Bill McGarry
Jakob Lillienweiss
Gonçalo Fragoso
Under-18 Girls:
Under-16 Boys:
Dylan Groen
Ric Leon Herz
Malte Mappes
Gilles Noah Rese
Under-16 Girls:
Team Officials:
Great Britain
Under-18 Boys:
Taz Knight
Ed Smith
Rhys Barfield
Harry De Roth
Under-18 Girls:
Peony Knight
Flora Lawton
Under-16 Boys:
Liam Murray Strout
Arran Strong
Sonny Perrussel
Jacob Elkington
Under-16 Girls:
Ruby Breadon
Elen Harding
Team Officials:
John Ellis
Lisa Piper
Lloyd Cole
Guatemala
Under-18 Boys:
Mario Vega
Jose Diaz
Antonio García
Eberth Morales
Under-16 Boys:
Eberth Morales
Jesús Esquivel
Under-18 Girls:
Under-16 Girls
Team Officials:
No team official registered
Hawaii
Under-18 Boys:
Josh Moniz
Seth Moniz
Imai DeVault
Jimmy Ulualoha Napeahi
Under-18 Girls:
Tatiana Weston-Webb
Bailey Nagy
Under-16 Boys:
Kaulana Apo
Barron Mamiya
Noa Mizuno
Cody Young
Under-16 Girls:
Team Officials:
Rainos Hayes
Kahea Hart
Bert Ishimaru
Tony Moniz
Lindsay McGill
Claudia Marcia Scarante Cox
Christopher Latronic
Ireland
Under-18 Boys:
Under-18 Girls:
Under-16 Boys:
Under-16 Girls:
Team Officials:
No team official registered
Italy
Under-18 Boys:
Under-18 Girls:
Under-16 Boys:
Under-16 Girls:
Team Officials:
Japan
Under-18 Boys:
Takumi Nakamura
Hiroto Ohara
Sasuke Kawatani
Shuji Nishi
Under-18 Girls:
Hinako Kurokawa
Nagisa Tashiro
Under-16 Boys:
Kairi Noro
Yuji Nishi
Joh Azuchi
Yuki Nakashio
Under-16 Girls:
Team Officials:
Junya Oishi
Yusuke Maki
Osamu Yoshinaga
Hiromori Okajima
Fumio Ogawa
Mexico
Under-18 Boys:
Jimel Corzo
Sasha Donnannon
Nahum Corzo
Under-18 Girls:
Under-16 Boys:
Jhonatan Corzo
Luis Rey Hernandez Contreras
Alan Cleland
Diego Solis
Under-16 Girls:
Team Officials:
No team official registered
New Zealand
Under-18 Boys:
Eliot Paerata-Reid
Dune Kennings
Korbib Hutchings
Jordan Griffin
Under-18 Girls:
Jasmine Smith
Britt Kindred
Under-16 Boys:
Jonas Tawharu
Kehu Butler
Daniel Farr
Manu Scott-Arrieta
Under-16 Girls:
Team Officials:
Kahn Butler
David Farr
Matt Scorringe
Peter Smith
Peru
Under-18 Boys:
Lucca Messinas
Lucca Saldivar
Tomas Tudela
Adrian Garcia
Under-18 Girls:
Melanie Giunta
Andriana Samanamud
Under-16 Boys:
Alonso Correa
Andres Echecopar
Johnny Guerrero
Gabriel Vargas
Under-16 Girls:
Leilani Aguirre
Brunella Messinas
Team Officials:
Ricardo Kaufman
Jorge Alberto Fernandez Leon
Pedro Gustavo Soares Dile Robalinho
Portugal
Under-18 Boys:
Tomás Durval Cândido Fernandes
Guilherme da Silva Fonseca
João Maria Fraga André
Tomás Agra Amorim Magalhães Ferreira
Under-18 Girls:
Keshia Alexia Seelow Eyre
Camila Maria Kemp
Under-16 Boys:
Francisco Pinho Récio Nunes de Almeida
Vasco Deodato Mónica
Luis maria Gomes Pereira Garcia Perloiro
Jácome Filipe Cogumbreiro Estrela Rego Correia
Under-16 Girls:
Teresa Goncalves da Mota Bonvalot
Ines Pereira Salta de Oliveria Bispo
Team Officials:
David Raimundo
Enrique Lenzano
João Jardin Aranha
Goncalo Rodrigo Fernandes Saldanhe
Puerto Rico
Under-18 Boys:
Marley Pugllieli
Mauricio Diaz
Under-18 Girls:
Under-16 Boys:
Under-16 Girls:
Jolari Carreras
Gabriela Rubi
Team Officials:
Russia
Under-18 Boys:
Under-18 Girls:
Under-16 Boys:
Nikita Avdeev
Egor Volkov
Under-16 Girls:
Team Officials:
Mal Gregson
Dmitry Volkov
Rui Miguel de Sousa Amaro
Andrei Avdeev
Oksana Trach
South Africa
Under-18 Boys:
Max Armstrong
Shane Sykes
Steffen Burrows
Ntando Msisbi
Under-18 Girls:
Under-16 Boys:
Ethan Fletcher
Adin Masencamp
Jordan Maree
Joshe Faulner
Under-16 Girls:
Cana Foster
Ruth Armstrong
Team Officials:
Isaac February
Greg Emslie
David Malherbe
Tasha Mentasti
Sweden
Under-18 Boys:
Under-18 Girls:
Under-16 Boys:
Under-16 Girls:
Switzerland
Under-18 Boys:
Luca Carlisle
Michael David Zaugg
Under-18 Girls:
Under-16 Boys:
Under-16 Girls:
Team Officials:
Tahiti
Under-18 Boys:
Under-18 Girls:
Under-16 Boys:
Despouy Nils
Raioha Mauiki
Napias Eliot
Under-16 Girls:
Team Officials:
Trinidad & Tobago
Under-18 Boys:
Under-18 Girls:
Under-16 Boys:
Under-16 Girls:
Team Officials:
Uruguay
Under-18 Boys:
Santiago Medeiro
Nahuel Alvira
Juan Cruz Ansaldi
Tiago Kerber
Under-18 Girls:
Camila Meana
Belen Barreiro
Under-16 Boys:
Matias Noberga
Nicolas Malet
Agustin Zanotta
Juan Jacinto Vargas
Under-16 Girls:
Team Officials:
Juan Marcelo Malek Bayer
Gonzalo Eiris
USA
Under-18 Boys:
Kanoa Igarashi
Jake Davis
Nic Hdez
Daniel Glenn
Under-18 Girls:
Frankier Harrer
Tia Blanco
Under-16 Boys:
Jake Marshall
Griffin Colapinto
Nola Rapoza
Luke Gordon
Under-16 Girls:
Maddie Peterson
Malia Osterkamp
Team Officials:
Greg Cruse
Ryan Simmons
Micah Byrne
Kevyn Dean
Justin Jung
Sara Peterson
Mitch Colapinto
Glen Davis
John Marshall
Ivan Navarro
Thomas Gordon
Simon Blanco
Craig Rapoza
Nathalie Glenn
David Glenn
Venezuela
Under-18 Boys:
Derek Gomes
Alejandro Gomez
Maikel Cardenas
Juan Diaz
Under-18 Girls:
Nicole Prada
Wuileidis Fariñas
Under-16 Boys:
Jose Joaquin Lopez
Matias Fernandez
Neomar Romero
Osawald Moreno
Under-16 Girls:
Pia Grossi
Mariana Bermudez
Team Officials:
Wales
Under-18 Boys:
Nathaniel James
Arran Bright
Under-18 Girls:
Angharad John
Emily Williams
Under-16 Boys:
Maxim Payne
Cieran Hughes
Under-16 Girls:
Team Officials:
Ingemar Cressey
Gareth Hughes
Huw John
Andy Williams